In the age of the blockchain,
COINCOME provides a place to earn tokens without any risk.
Nearly all cryptocurrencies do not deliver the experience of using the currency
in actual situations, such as daily living.
Our team members have come together with the goal of making a cryptocurrency
that enriches and adds convenience to everyday life.
We issue an authentic cryptocurrency leveraging the management experience as directors of
growth/public-listed companies or as representatives of corporate groups.
Cashback Site Rewarded with Cryptocurrency
COINCOME
COINCOME is a cashback site rewarded with cryptocurrency.
You can get CIM just by doing usual online shopping via COINCOME.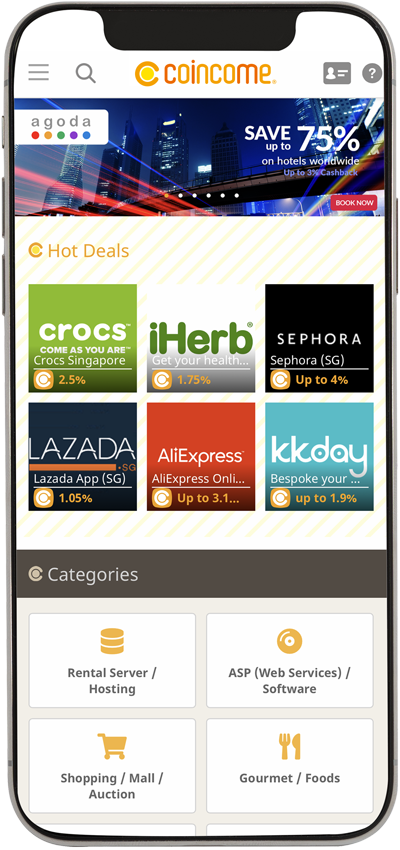 Get CIM in various ways
You can get CIM just by doing usual online shopping via COINCOME.
Also accumulate CIM in various ways - using web services, answering surveys, etc. which are offered on COINCOME.
Online shopping, Travel reservations, Card issuance, Open accounts, etc
CIM increases automatically
CIM is automatically increased depending on the amount of CIM you acquire/hold.
Introducing CIM Token
You can use your CIM around the world by using it to top up your debit/credit cards or PayPal wallet.
You can also pay mobile Internet fees, top up your prepaid IC cards, or send CIM to friends.
We will offer many other ways for you to wisely spend in real life situations.

Receive CIM
Shop
Make travel reservations
Sign a credit card contract
Open a new account
etc.

Use CIM
Cashback in fiat currency
Top up your debit/credit card balances
Convert to another cryptocurrency
Send to another individual user
etc.
Since CIM is earned free of charge without any investment risk,
it is accessible to those with low-income such as young people and housewives,
plus anticipated greater demand in countries where credit cards are not so much diffused.
By using CIM to top up your debit/credit card, you can shop at brick-and-mortar shops or pay for transport.
Building a convenient payment environment for visitors coming to the 2020 Tokyo Olympics.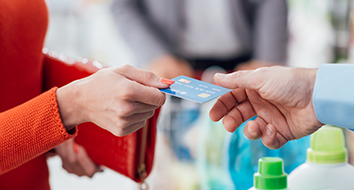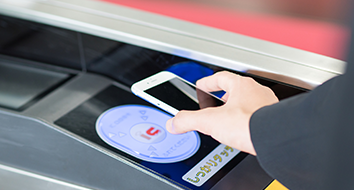 Status of the Cashback Services Market
Businesses are worldwide and concentrated mainly in Japan, U.S. and U.K.,
the scale of $90 billion is in circulation.
The market keeps growing by 120% year-on-year,
and 60% of EC users get kickbacks including cashback or coupons.

COINCOME Strengths
COINCOME is the most beneficial and useful cashback service
based on the synergistic effects of a unique method of monetizing and
proven management experiences of Japan's biggest cashback service with a membership of 10 million.

Reasons for Selecting COINCOME
With the power of blockchain platform, we create unprecedented opportunities for both users
and businesses as well as solve their issues.

Challenges (R&D) COINCOME is Taking on Using the Blockchain
Redefining tracking system - the focal core of digital marketing, and
cashback systems - the booster of EC market development and growth in emerging countries.
Building an open tracking system not dependent only on cookies

Break out GAFA's control of digital marketing
Adapt to GDPR
Solve the issues of tracking accuracy and data inconsistencies coming from multi-layered tag management

Creating a cashback service with an open ledger management system

Make the cashback service a package that can be widely distributed
Eliminate problems with expanding cashback conversion options/versatility, the speed of granting rewards, and troubles with fraud (managing user quality/trustworthiness)

Roll out while testing direct and indirect applications of blockchain technology to the shared platform for data management

Saved and developed various data on the blockchain platform, it is possible to build a data structure resistant to unexpected structural changes or willful act such as a ad frau.
We continue to improve the value of data and the convenience merging the information presented by COINCOME's users.
Sharing the methods of tracking system and cashback site construction enable us to encourage more players to join the service, and support the global expansion of healthier and more active Internet marketing. Furthermore, it is assumed to be a consortium with multiple DMP/ad network businesses.
Distributed Media: Deploying COINCOME Globally
Providing open-sources developed on COINCOME's blockchain: the ledger management system,
tracking system sources and protocols, a lots of new media based on COINCOME will appear in the world.

Team

CEO

Yoshihiro Kanemitsu

Former Board of Director of REALWORLD,inc. (TYO: 3691), former Marketing Director at Foreland Forex (currently Rakuten Securities)

Principal of Technology

Tyrell Systems Inc.

Eikyufumetsu.com (CREDIT SAISON Rewards mall), TREASURE DATA development

Partner and Advisor of Blockchain and Cryptocurrency

Hiroshi Tsurusaki

CEO of Tecotec inc.
(Sold DMM Bitcoin to DMM.com Group)

Partner and Advisor

Mitsutaka Hamada

Principal of OPT Ventures,Inc.

Legal Advisor

Ko Hanamizu

Representative of Anderson Mori & Tomotsune (Singapore) LLP
Product Management & PR

Ikue Saito

Marketing & Sales

Shoji Amamiya

Engineering & Sales

Naoki Hirata

Design & PR

Chiyomi Iwamoto
The contents of this document are subject to change or update without notice.